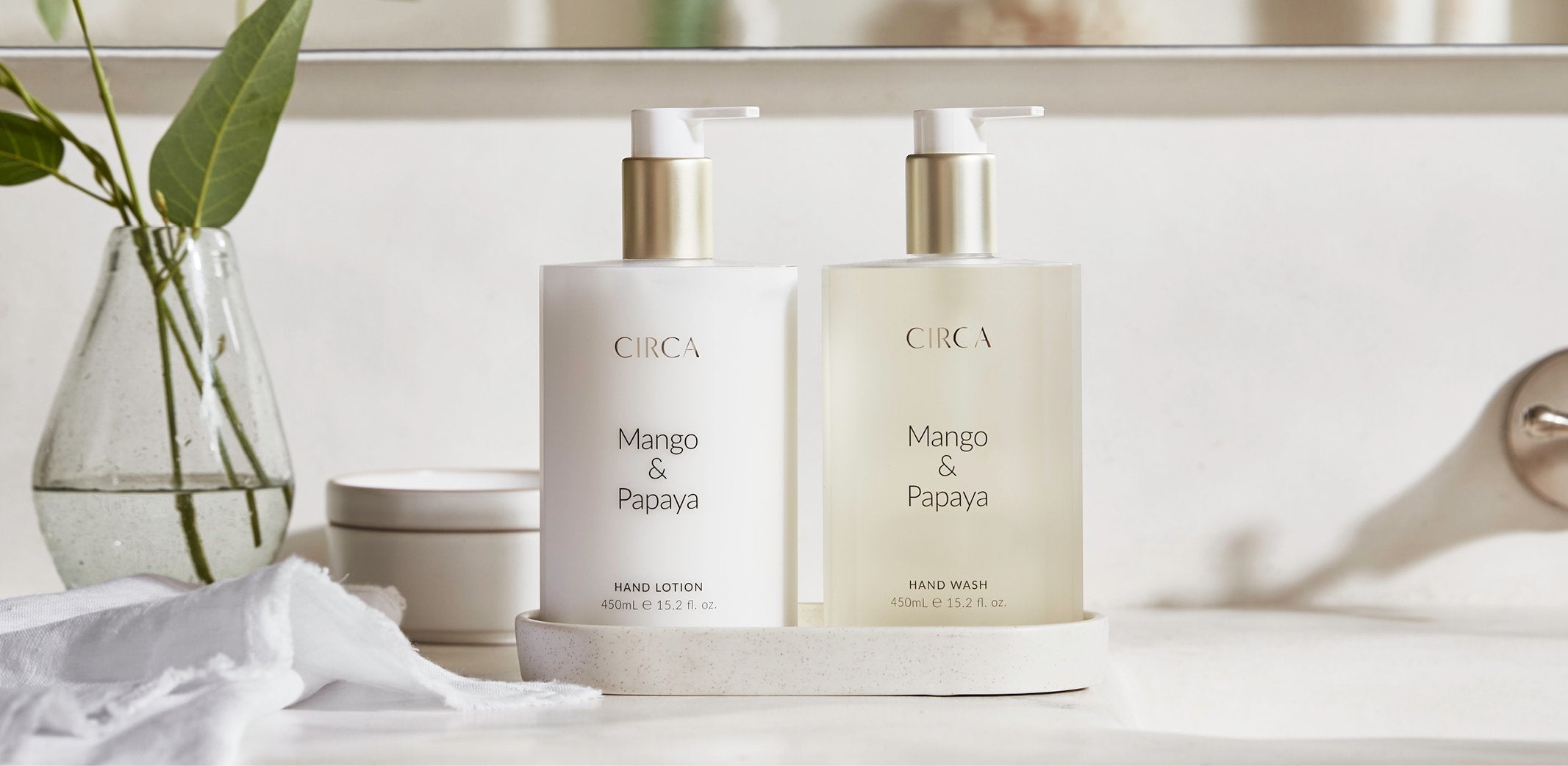 Coming Soon
In store only
Sold Out
Low Stock
Online exclusive
Gift with purchase
Free gift
Free sample
Limited Edition
Special Edition
New
Award Winner
Most loved
Best Seller
Add to bag - ${ product.compare_at_price }

${ product.price | currency }

${ product.compare_at_price }

${ product.price | currencyFromCents }
View
Sold Out
Notify me if back in stock
Thanks, we'll let you know
Sorry, there are no products matching the current criteria.
CIRCA has your hands in mind, with our range of luxurious hand-care products. Proudly Australian made, these cleansers and lotions are made with ingredients to help nourish the skin, while keeping hands beautifully fragrant.

Our Hand Wash cares for your skin with moisturising Apricot Kernel Oil, Rosehip Oil and Olive Leaf Extract. While our scented Hand Lotion helps restore your skin with nourishing Shea Butter, Apricot Kernel Oil and antioxidant-rich Vitamin E. Our luxe hand-care products come available in five iconic fragrances: Oceanique, Jasmine & Magnolia, Mango & Papaya, Pear & Lime and Blood Orange, plus White Tea & Wild Mint from our Kitchen Alchemy™ range.

They're free from parabens, silicones and animal-derived products, are vegan-friendly and never tested on animals.
CIRCA also has you covered out and about too, with our Australian made Hand Sanitiser. Specially formulated to kill 99.99% of germs, this antibacterial rinse-free gel formulation is enriched with revitalising Aloe Leaf extract and the uplifting fragrance of Wild Mint and White Tea, leaving your hands feeling nourished and refreshed.