OzHarvest's Executive Chef, Travis Harvey, shares two quick and delicious recipes that your guests will love!
Cauliflower & Chickpea Salad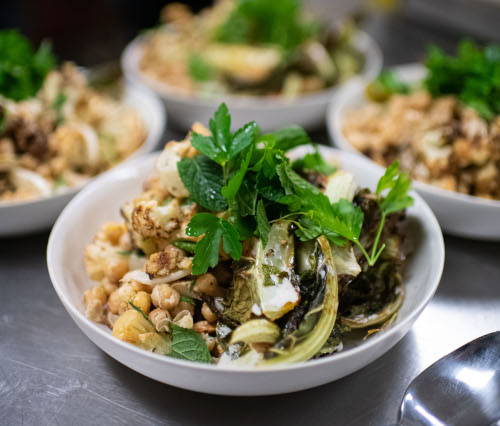 Serves 4
Salad Ingredients
1 head cauliflower, cut into florets
3 Tbsp olive oil
Salt and pepper
400g can chickpeas, drained & rinsed or 2 cups dried chickpeas soaked overnight and cooked until tender
Mint & parsley, finely chopped
Pomegranate seeds or currants
Tahini Dressing Ingredients
2 Tbsp tahini
1/3-cup olive oil
Juice of 1 lemon
1 clove garlic, crushed
Sumac
Salt, pepper
Warm water

Combine all ingredients for dressing and whisk well. Add warm water if necessary to ensure a smooth dressing.
Preparation
1. Toss cauliflower florets in olive oil and season with salt & pepper.
2. Place cauliflower in baking paper lined tray and roast at 180-190°C for 25 mins or until tender & lightly caramelized.
3. Remove from oven and cool.
4. Combine cauliflower with cooked chickpeas, mint & parsley.
5. Pour over Tahini dressing and mix well.
6. Garnish with pomegranate seeds or currants.
Delicious!
Banana Tarte Tatin
Serves 6
Ingredients

70g unsalted butter
150g caster sugar
4 overripe bananas
2 sheets puff pastry
Preparation
1. Heat butter in a 25cm base fry pan until melted, then add the sugar. Increase the heat a little and cook continually until a golden colour appears. Remove from the heat and let cool.
2. Preheat oven to 200°C.
3. Peel and slice bananas into rounds 2cm thick. Arrange them on top of the caramel to cover the whole base of the pan.
4. Flour a bench lightly, then place the two puff pastry sheets on top of each other. Roll out until they are at least 25cm (wide enough to cover the base of the frypan).
5. Using a plate of the same size, trim the edges of the pastry to a 25cm circle. Use a fork to dock holes in the pastry, then place over the top of the bananas, tucking the edges down around the fruit.
6. Bake at 200°C for 20 minutes then remove. Let cool for 3-4 minutes before turning out onto a chopping board.
7. Serve with vanilla ice cream or crème anglaise.
Voila!